We offer Re-roofs, Gutters, Skylights, Chimneys, and more
Flat or Low-pitched Roofs
Single Ply roofing for flat or low-pitched roofs offer much improvement over the old hot tar roofs of yesteryear. TPO and PVC roofs have a high tensile strength, excellent puncture and tear resistance and add a weatherability and reflectivity for a modern-day system. Affordable and long lasting we can offer up to lifetime manufacturer's warranty on your next roof.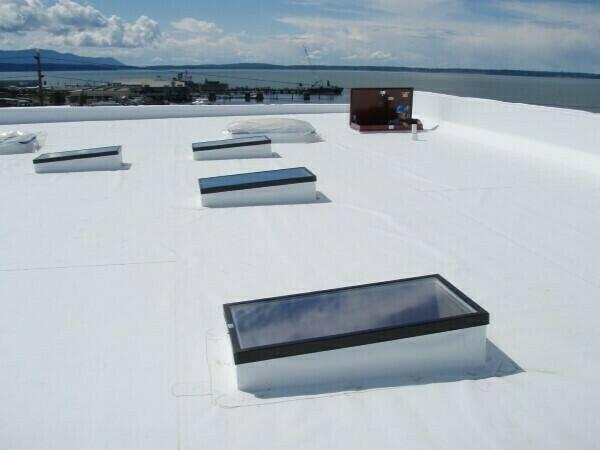 TPO - Thermoplastic roofing membranes
Great Value: Superior performance at a cost-effective price
Excellent Seam Strength: Heat-welded seams provide greater seam strength to taped and other seams.
Long-term Weathering: Excellent long-term heat and UV resistance.
Energy Saving: Highly reflective and emissive white roof can help reduce energy costs and urban heat island effect.
Come in highly reflective white or a light gray color
Offer the benefits of reduced cooling costs and energy savings during summer months. They reflect the sun's harsh UV rays rather than absorbing them, helping keep your home or facility cool during warmer months. With high UV resistance and durability, thermoplastic membranes resist mold growth and damage from tears or punctures.
With warranties now available from 20 years to lifetime. TPO has been a popular option for roofing the past 20 years. It is economically efficient, easy to maintain, durable, and energy efficient. Our experienced staff will take care of any TPO Re-roofing projects.
Shake Roofs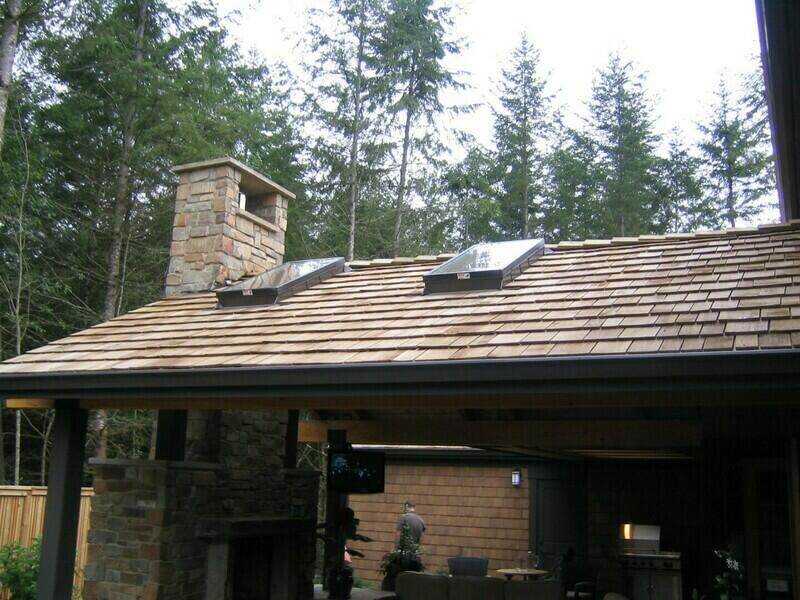 Cedar Shake Roof
Handsplit & Resawn Shakes
Wanting THAT RUSTIC APPEAL?
On houses with a 4/12 or greater roof pitch, use cedar shakes
We install and repair cedar shake roofs.
For an unmatched rustic character with a country appeal. Standard cedar shakes are mill cut on the backside while the face of the shake is split along its natural grain on the front side of the wood. This process gives the cedar shake a natural textured surface which looks great on a mountain chalet, modern country house, or a ocean-side beach home. Popular products are Medium and Heavy shakes which are thicker and heavier than most composition asphalt shingles, giving the roof a very rugged and rustic appearance.
Unique & natural look
Lowest Carbon footprint of all roofing products
Standard grade, Premium grade, Raw or Pressure Treated to resist rot.
Cedar shingles, Cedar Shakes, Taper Sawn Shakes, Medium thickness, Heavy thickness, or Jumbos.
Premium grade shakes exceed the national industry standard 100% edge grain wood is used.
NEED YOUR CEDAR SHAKE ROOF INSPECTED, TREATED OR REPAIRED?
We are experts. Call us for all your roofing needs.
Architectural Roofs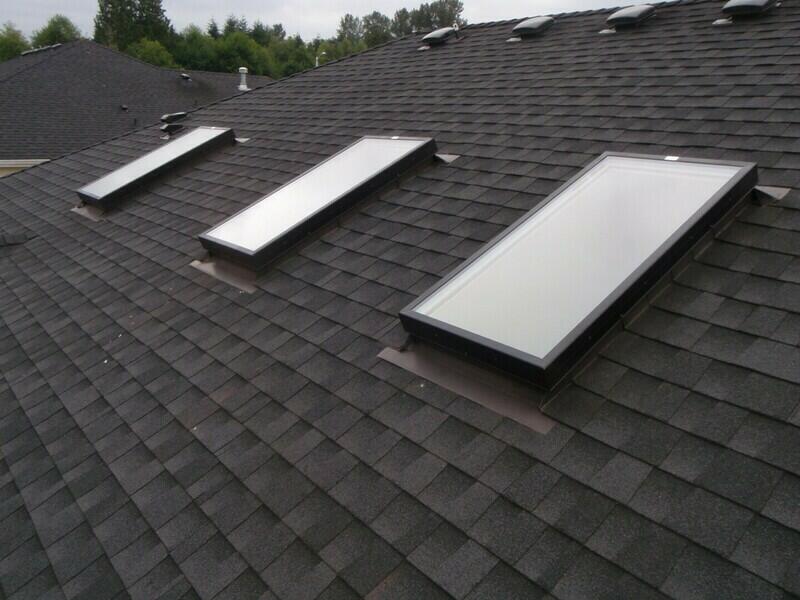 Architectural Shingle Roof
With high price of cedar shake, architectural composition shingles provide a cost-effective alternative that offer up to a lifetime manufacturer's warranty. These architecturally designed shingles are aesthetic and can add value to an existing home. We proudly feature GAF Roofing as our number one choice of roofing products. Other brands such as IKO Roofing, Pabco Roofing and Certainteed products are available as well. Each with a slightly different look and style, we also have available BP Roofing shingles and Malarkey Roofing.
Metal Roofs
Metal roofing panels deliver premium performance combined with very low maintenance, standing seam metal roofing panels are wind, fire and hail resistant. They offer up to a lifetime manufacturer's warranty and are practically maintenance free. They are an outstanding and durable long-term value. They come in a wide range of designer colors to complement your home.
Standing seam roofs look great and are incredibly durable. Your roof will get the protection it needs without compromising the appearance of your home.
Some additional benefits of this roofing option include:

An advanced design that hides fasteners and screws
Made from up to 50% recycled material and is 100% recyclable again - making it a wise environmental choice
A UL 90 wind uplift rating
Can't rot, crack, split, break, burn or blow off
Very low maintenance
Less than 1/3 the weight of asphalt shingles - easing stress on your roof structure
Many styles and a multitude of colors to choose from
Increase your home's curb appeal
Long life expectancy / Durability
Once it's installed, you'll be amazed by how great your roof looks. Your friends and neighbors will notice, too.
Contact us today to get a free estimate from a reliable experienced roofing contractor
Contact Us
We have access to high-quality materials from trusted manufacturers
You will get a professionally installed roof that looks great and will last for years to come